BOWMAN FIELD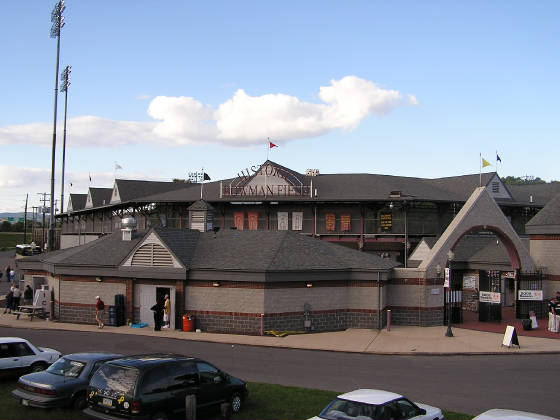 TEAM ::: WILLIAMSPORT CUBS
LOCATION ::: WILLIAMSPORT, PENNSYLVANIA
MY FIRST GAME ::: AUGUST 13,1995
OPPONENT ::: ONEONTA YANKEES
LEVEL ::: NEW YORK / PENN LEAGUE A
Team currently known as Williamsport Crosscutters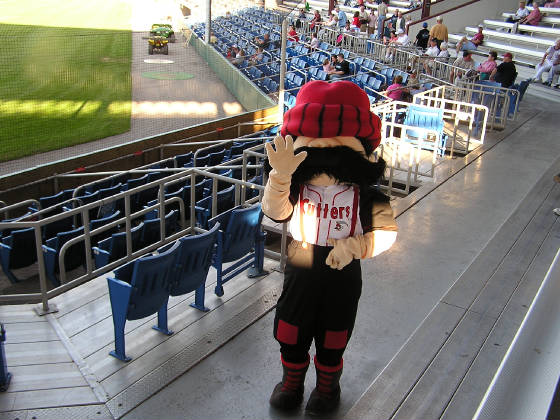 RATINGS
BALLFIELD ::: C
SCOREBOARD :: C
FACILITIES ::: B
FOOD ::: B
MASCOT ::: B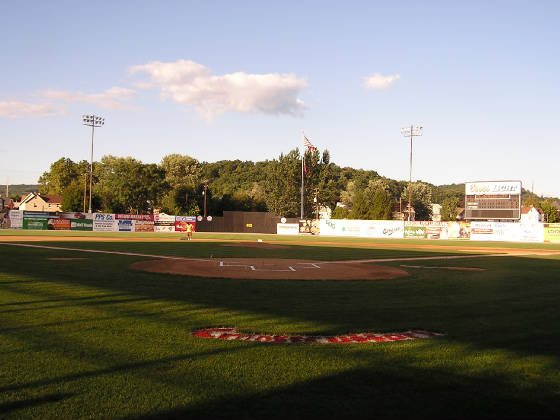 MY TAKE ON THE PARK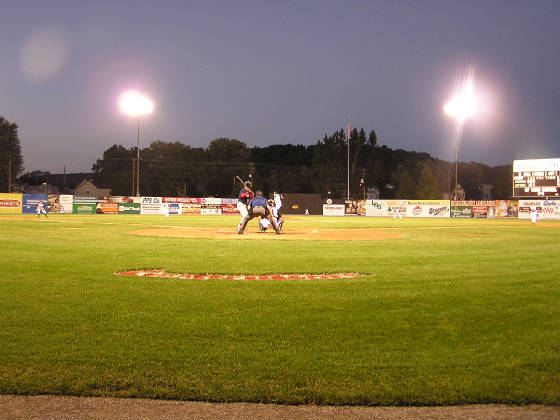 I MADE MY FIRST TRIP TO HISTORIC BOWMAN FIELD OVER 10 YEARS AGO AND ENJOYED THE SCENERY AND THE NY - PENN LEAGUE PARK. AFTER RECEIVING AN E-MAIL ABOUT THE PLACE, I DECIDED TO RETURN IN 2005 TO SO MANY CHANGES, BUT SO MANY THINGS THAT ALSO STAYED THE SAME. WHEN RENOVATING A BALLPARK, IT IS IMPORTANT TO NOT FIX WHAT ISN'T BROKE, AND THAT WAS MY BIGGEST SURPRISE IN WILLIAMSPORT.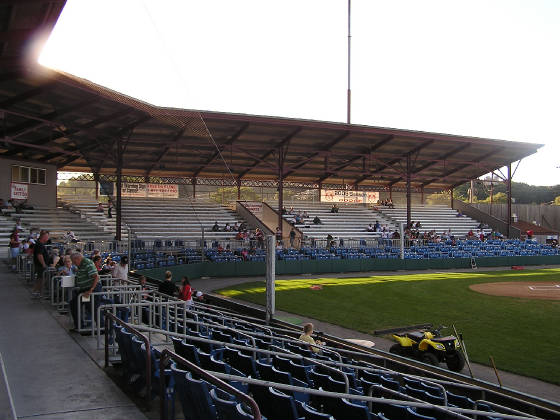 NOT BEING FROM WILLIAMSPORT, I HAD TO MAKE THE DRIVE AND THE FIRST THING THAT HAS NOT CHANGED IS THE SCENERY. I-180 IS AS SCENIC AS I REMEMBER AND IS A GREAT BACKDROP FOR WHAT I WAS ABOUT TO ENCOUNTER. DRIVING THROUGH THE SMALL TOWN OF WILLIAMSPORT WITH MY TRUSTY DIRECTIONS, I FOUND BOWMAN FIELD IN THE SAME PARK I HAD REMEMBERED. UPON ENTERING PARKING WAS STILL FREE AND SPACIOUS BUT THERE WAS A NEW STRUCTURE TO MY LEFT.
THE FIRST CHANGE I NOTICED WAS THE ENTRANCEWAY THAT WAS BUILT WHICH IS A VERY SHARP LOOKING DEEP GRAY AND MAROON.
UPON ENTERING THE PARK, THE STRUCTURE THAT WENT UP NOW SERVES ALL OF THE FAN NEEDS. A NEW CONCESSION STAND, SOUVENIR STORE, AND REST ROOM AREA. EVERYTHING DESIGNED TO MAKE THE FANS MORE COMFORTABLE. WHO CAN COMPLAIN ABOUT THAT?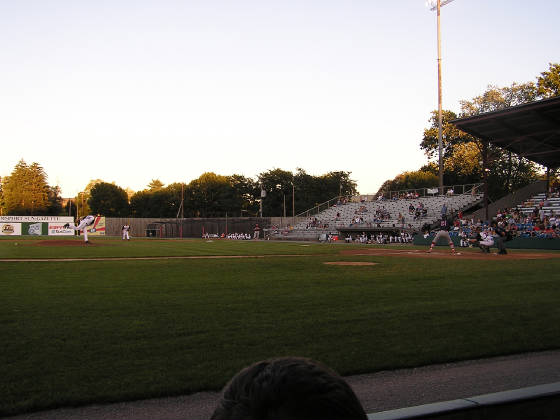 FROM THE CONCOURSE AREA, TAKE A WALK UP A DARK RAMP TO THE SEATING AREA WHICH LOOKS JUST LIKE IT DID BACK IN '95. THE BIGGEST CHANGE I NOTICED WAS THE FIELD WHICH HAS GREATLY IMPROVED.
SEATING IS 4 ROWS OF BOX SEATS AND THEN THE COVERED GRANDSTAND AREA. THE SECTIONS ARE SEPARATED BY A WALKWAY.
THE THING I FEEL SEPARATES THIS PARK FROM OTHERS IS THE WOOD FENCE THAT SURROUNDS THE PARK. WHEN LOOKING AT PHOTOS OF THE OUTFIELD, THAT FENCE IS WHAT ALWAYS HELPS WILLIAMSPORT STAND OUT FROM THE REST.
THE MOST APPEALING ASPECT OF THIS PARK IS PRICE. BY FAR THE CHEAPEST PRICES IN ALL OF THE MINOR LEAGUES ARE FOUND HERE IN WILLIAMSPORT. IT IS ALWAYS GREAT TO GO TO A GAME WITH $20 AND LEAVE WITH CHANGE.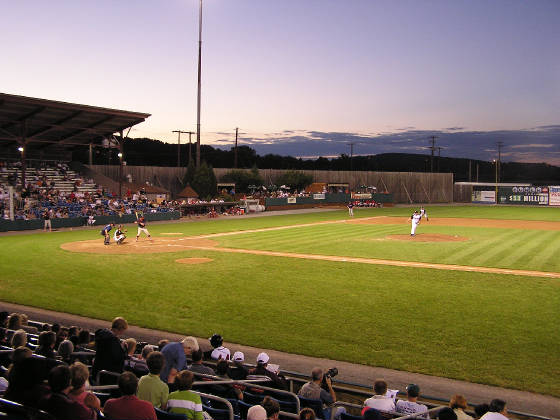 A TRIP TO WILLIAMSPORT IS A FUN EVENING OUT. THE CROSSCUTTER STAFF REALLY WORKS TO KEEP THE FANS ENTERTAINED BETWEEN INNINGS AND THEY DO IT WITHOUT THE MODERN CONVIENIENCES. IT STILL WORKS AND MAKES FOR A GREAT TIME.
IF YOU ARE FORTUNATE TO GO ON FIREWORKS NIGHT, YOU WILL HAVE THE OPPORTUNITY TO SIT OUT ON THE FIELD AND WATCH THE SHOW FROM THE FIELD. THE FIREWORKS ARE DISPLAYED BEHIND THE STADIUM SO AS TO NOT INTERFERE WITH PARKING, CAN BINGHAMTON BE TOLD ABOUT THIS?
JUST ANOTHER AREA WHERE A SIMPLE ADJUSTMENT CAN MAKE THE EVENING MORE ENJOYABLE.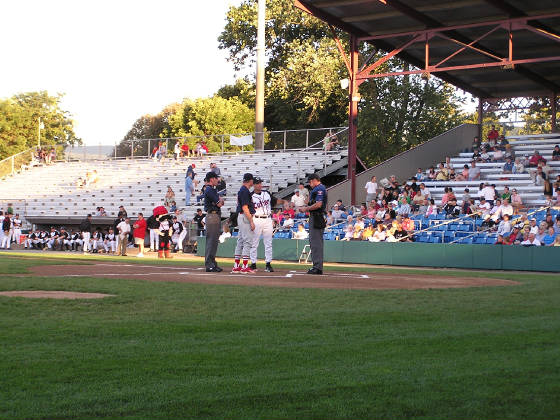 LINE UPS
ONEONTA MANAGER ::
41 ROB THOMPSON

WILLIAMSPORT CUBS MANAGER ::
26 ONERI FLEITA
ONEONTA YANKEES
62 Rod Smith 2b
21 Eric Camfield dh
48 Chris Wilcox rf
55 Mike Lowell 3b
47 Shea Morenz lf
54 Cody McCormick c
22 Scott Emmons 1b
19 Jose Lobaton ss
29 Derek Shumpert cf
62 Steve Randolph p / LP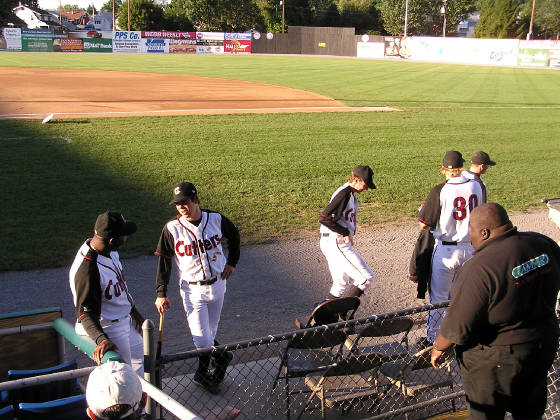 WILLIAMSPORT CUBS
22 Jose Nieves ss
13 Brian Conley 2b
28 Terry Joseph lf
14 Scott Viera dh
27 Jerry Salzano 1b
9 Ryan Seidel rf
8 Dorian Speed cf
35 Julio Zuleta c
16 Ashanti McDonald 3b
33 Troy Ormonde p
29 Wyatt Cortez WP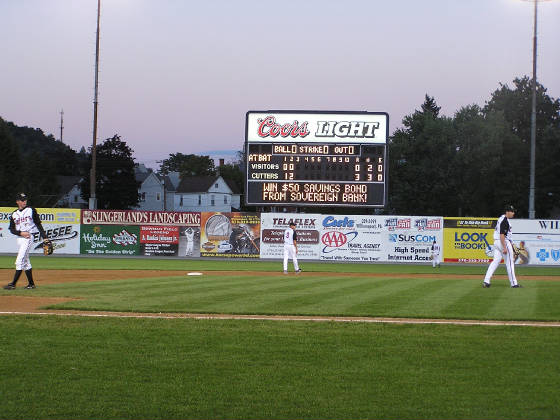 O YANKEES 200 000 000 2 6 3
WILL CUBS 500 212 00x 10 7 0

TIME ::: 2:50
ATTENDANCE ::: 1,774
WEATHER ::: HOT / SLIGHT BREEZE

SEND ME AN E-MAIL

LINKS
The official site of the Williamsport Crosscutters
The new team in the NY - Penn League and a natural rival to the Crosscutters. The Official Site of the State College Spikes
Williamsport weather from WEATHER.com